Vancouver Kitsilano Apartments & Condos for Sale MLS Listings
About Kitsilano Vancouver
Kitsilano is one of Vancouver's most sought after neighbourhoods and is a beautiful place to call home for many reasons. From its vast selection of Kitsilano Real Estates for sale to all other great real estate options, this community is the perfect place to raise a family or settle down. Its wide range of services and proximity to some of Vancouver's premier attractions and destinations all add to the appeal of Kitsilano.
Kitsilano is a tight-knit neighbourhood located in Vancouver West Side. It is easily one of the trendiest and most sophisticated areas in the City of Vancouver. Locals and tourists are attracted to Kitsilano Pool and Beach during the summertime. This magnificent place offers many unique real estate options, and condos for sale in Kitsilano provide gorgeous waterfront views of Georgia Straight.
Besides the views and modern living that Kitsilano offers, it is also home to an excellent community centre that provides residents with a wide range of services and activities. Kitsilano Community Centre offers a multi-purpose room, a dance studio, a gym and an outdoor playground. The multi-purpose room is an ideal place for weddings, functions, birthdays or other significant milestones. Many rooms in the community centre offer spectacular views of the North Shore Mountains.
About Vancouver Kitsilano Condos
The Kitsilano Vancouver Condos for Sale price typically range between $398,000 and $3,888,000, with larger units goes for as much as $3,888,000. The average total area of a Kitsilano Condos is 824 SQFT.
The average strata fee for the Kitsilano Condos is $347 per month. Not all Buildings have the same amenities. Some might have full facilities, including Swimming Pool, Hot Tub, Gym, On-Site Caretaker, Guest Suite, Meeting Room, Lounge, Pool Table, Squash Court, etc. Others may not have any amenities at all. Thus we find the best way to evaluate the Strata Fee is to look at the Strata Fee per Square Foot. The Average Strata Fee for Kitsilano Condos is $0.44/SQFT.

The average Kitsilano Condo Price is $883,604, and the Average Sold Price is $815,295. The average Condos Sold Price per square foot is $1,022/SQFT. The Condos for Sale Average Days on the Market in Kitsilano is 19 days.

Sam Huang and his team of experienced Realtors have been living and working in the Metro Vancouver area for over ten years. They have helped many clients bought and sold Condos & Townhouses around Kitsilano. They can help clients find a suitable home very quickly. The team has in-depth knowledge of the different buildings in the Vancouver Kitsilano area, including knowing the developers' history, age of the building, type of construction, and bylaw restrictions. If you are thinking of buying or selling a Condo or Townhouse, please call Sam Huang and his team at 778-991-0649.
If you are a first time Home Buyer looking to buy a home around Kitsilano and have questions about obtaining a mortgage for your purchase, we can refer a Mortgage Broker to help you get pre-approval for your mortgage.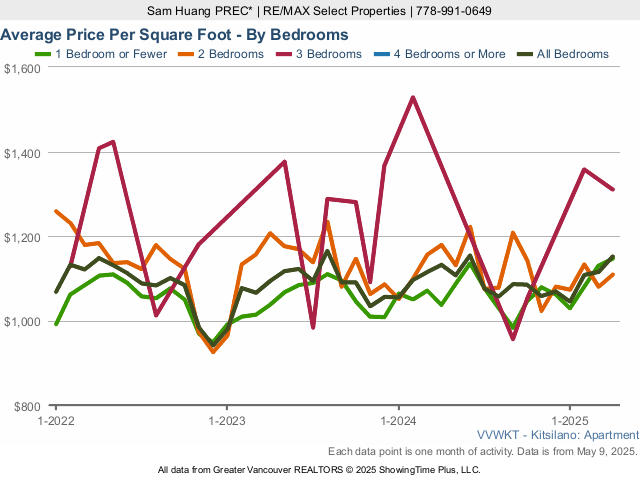 More Real Estates for Sale MLS Listings
Kitsilano
False Creek
New Westminster
North Vancouver
Point Grey Real Estate
Richmond
Vancouver
Vancouver West